New Book release by PPOE Founder/CEO, Steve Robertson:
I'm so excited to announce that I have fulfilled a life time dream, that of publishing my first book entitled "The Power of Choice – Success and Your Life Purpose."  If you have ever wanted to discover the meaning of life, find your life purpose and mission, and succeed in bringing this gift to our world, this book is designed especially for you. Thank you in advance for supporting me and the fulfillment of this life dream.
(click on the Lulu buy now button or title below to order a copy)

"Steve Robertson's 'The Power of Choice, Success and Your Life Purpose' is a textbook for the soul." – Caroline Myss, Anatomy of the Spirit 
Los Angeles, California – A young man loses everything in a 24-hour period of time.  At the age of 29, this experience launches him on twenty-five year spiritual quest to discover the meaning of life and his unique life purpose.  He is lead to promote sacred music worldwide.  His journey connects him to many of our planet's most famed Musicians, Film makers, TV producers, Humanitarians, Doctors, Scientists, Celebrities and internationally acclaimed peace work in Middle East.  In Steve Robertson's, The Power of Choice, the eponymous author uses "beautiful metaphors and analogies that lead in every instance to awareness, self-responsibility, and our Divinity" says Gary Zukav, author of The Seat of the Soul.  
From birth our soul seems the result of a cosmic casting that seeks to mold our inner most self into that of a divine plan and purpose," writes Robertson. Through his quest and travels around the world, he is met with and overcomes soul breaking challenges which help fortified spiritual insights and wisdoms about the meaning of life and its' purpose.  Writes Dr. Larry Dossey, National Best Selling Author of "The Power of Prayer" about 'The Power of Choice', "Robertson does not merely write about a vision of peace and personal empowerment, but he has lived it on the world stage. His story is captivating and inspiring. Robertson is a living avatar on whose shining example our future may depend."
In my writings and lectures I share deep insights that help to flatten the learning-curve about how consciousness works and most importantly,  how to discover and align yourself with your unique and Divine life purpose," Robertson says.
Don Miguel Ruiz, National Best Selling Author of the "Four Agreements" states about Robertson's book: "The Power of Choice is required reading for anyone who has longed to find and fulfill their life purpose." This unique and compelling journey of self-discovery and the power of leaps of faith that reveal miracles are captured in  Steve Robertson's, The Power of Choice: Success and Your Life Purpose. Robertson is a spiritual mentor and life-coach for many people and professionals seeking inner peace and transformation, for his writings touch upon how the mystical nature of consciousness and music work to  empower  Divine realizations which lead to personal success and a lasting world peace.
About the Author
Steve Robertson is a social media entrepreneur and entertainment industry executive/producer based in Los Angeles California. He created Project Peace on Earth LLC (PPOE) to give back to society while working on multiple business/production/consulting and start-up endeavors. 

 PPOE's November 2011 Picasso Peace Dove / Love All image from Jericho's Mount of Temptation was selected in 2012 as one of the  UN's 49 most iconic photos in the organization's history. 

Robertson is an Entrepreneur, Philanthropist, an Entertainment Industry and Business Marketing Strategist and consultant, Executive Sales and Life Coach, Speaker, a noted blogger at Huffington Post, Author, a former Fortune 500 Sales Executive (High-Tech Computer Process Control Automation and Health Insurance Industries) and professional motocross racer. 

Robertson has enrolled PPOE's Team that consists of many of the world's top leaders in Music, Film, TV, Mobile Media, Medicine, Science, Humanitarian/Human Rights Work, National Best Selling Transformational Authors, Veteran PTSD issues, Higher Education and Politics.

October 3, 2013
  Robert Orduño is listed in WHO's WHO IN AMERICAN ART, and has been profiled in SOUTHWEST ART, INTERNATIONAL FINE ART magazine and other publications. Orduno is the recipient of many honors, including the prestigious Tony Begay Award. His work has been exhibited at museums and Native American cultural centers, including the National Native Indian Artists Symposium, the C.M. Russell Museum in Great Falls, Montana and the Buffalo Bill Historical Center in Cody, Wyoming, and he is featured in the permanent collection of the Red Cloud Indian Art Show of South Dakota.  Orduño has had featuring roles in two episodes of Steven Spielberg's critically acclaimed mini-series, Into the West.
August 29, 2013
Peace notes from India
A global peace project that aims to inspire compassion through music will feature Ricky Kej this year
by Ayesha Tabassum
Posted On Wednesday, August 28, 2013 at 07:24:37 PM
In 2008, two broadcast journalists travelled on a double-decker bus interviewing people across the US and Canada about their personal pathway to discover peace and how this could be applied to make the world a better place. Five years later, Log-Angeles based social entrepreneur and entertainment producer Steve Robertson's Peace Project on Earth (PPOE) features Bangalore-based music director Ricky Kej as a performer at the 2013 World Forgiveness Concert.
Started with the intention of spreading peace through music, PPOE broadcasts inspirational music worldwide from sacred sites such as Bethlehem. For Robertson, it has been a 24-year-long journey. "I had the idea in 1987," he says, over e-mail. PPOE started off with a series of initiatives such as an eye surgery camp in Palestine in 2010, and then hosted its first music concert on Christmas in 2011, at Bethlehem with world famed Ode player and lead singer of the Enigma MMX Social Song, Fox Lima. It was telecast to 80 million homes worldwide.
"Sacred music has the power to create new thought processes that can lead to inner peace, compassion, forgiveness and love so that outer peace is made more possible," writes Robertson. At present the PPOE team is focusing on peace initiatives in conflict-stricken regions within the Middle East. These include developing and producing inspirationally transformational music concerts, medical missions, fine art events and social awareness lecture series.
Kej's latest album the Shanti Orchestra struck a chord with Robertson, after which he was roped in for the 2013 World Forgiveness Project that will take place at Bethlehem on Christmas. "Ricky's music is divinely sophis ticated and touches the soul with great purity," he says. Grammy winner Joanne Shennandoah, Fox Lima of Enigma Social MMX Song, and acclaimed violinist Lily Haden will also be performing.
Though PPOE has seen big names over the years (Beth Nielsen Chapman, Rahat Nusrat Fateh Ali Khan, Sussan Deyhim and Jonathan Elias, to name a few) it hasn't been easy for Robertson. "Agents and managers of musicians are rarely helpful. I am still working on Roger Waters of Pink Floyd. When I've been able to speak to an artist directly and explain our intent, they've almost always agreed immediately."
August 23, 2013
New Age Album Shanti Orchestra, the First Independent Release for Music Producer Ricky Kej, Creates Path to World Peace Ambassadorship
Indian producer Ricky Kej's first independent album is embraced in U.S., leading to an invitation to join Project Peace on Earth. All proceeds from album's sales will benefit the artist's Majolly Music Trust in India.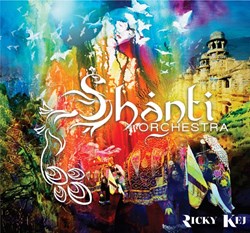 New album SHANTI ORCHESTRA by producer-composer Ricky Kej
Ricky's music is Divinely sophisticated and touches the soul with great purity. It brings a joyful peace to the heart and a clarity to the mind.
New York, NY (PRWEB) August 20, 2013
Long one of India's most prolific young composers in the worlds of advertisements, film scores and jingles, composer-producer Ricky Kej released his first independent album today, the New Age-style album called Shanti Orchestra. Collaborating with over 20 world-renowned musicians from diverse places including Los Angeles, South Africa, India, Congo and Qatar, Kej delivers an ethereal, worldly, and chill album that serves as a timely update for fans of Buddha Bar or Enigma.
On Shanti Orchestra, Kej collaborates with international talent including Alexis D'Souza, Junior Bay, Praveen Godkhindi, Wouter Kellerman, and sitar master Paul Livingstone, a prominent voice throughout the project. While Kej didn't start off with a concept per se—wanting to give space to express his feelings in a free-flowing blend of music and harmony—the Shanti (meaning "peace" and "equilibrium") theme emerged when he realized that every groove, every note and every sound somehow came together perfectly as if they were created to be played together. As Kej says, "I believe just like music can be harmonious amidst so much chaos, so can the world. Music works best when there is harmony and not when notes are in unison."
While Kej has produced and appeared on dozens of albums across various record labels, so striking is the music on this first independent effort –Shanti Orchestra — that an early promotional copy of the album quickly led to an invitation for Kej to become an ambassador for the U.S.-based non-profit Project Peace on Earth.
"We are thrilled and honored to have Ricky Kej join as one of Project Peace On Earth's (PPOE) Musical Ambassadors," stated its Founder and CEO, Steve Robertson on August 14, 2013. "Ricky's music is Divinely sophisticated and touches the soul with great purity. It brings a joyful peace to the heart and a clarity to the mind. These are the qualities of music we most look for in selecting musicians to represent PPOE and our message of inner peace causing outer and world peace."
Robertson notes that Kej will represent PPOE in its upcoming World Forgiveness Project planned for December of 2013. He also confirmed that Ricky will play a key and central role in all of the organization's future peace initiatives.
Kej is no stranger to good works. Born in the U.S. to a family of doctors, he was raised in India, a combination that surely influences his creative drive to uplift and unify people through music. And going beyond producing music, Kej is renowned for his charitable efforts benefitting animals and musicians, including The Majolly Music Trust, of which he is a Founding Trustee along with world renowned pianist Neecia Majolly, Director of the Trust. The masterstroke of the Trust is to create a Pension Fund for aged and infirm musicians, the first of its kind in India, while also funding and supporting several Music Education initiatives.
Shanti Orchestra has received high praise to date. Veteran music writer Jonathan Widran notes, "Ricky Kej shares a deeply felt, fascinating journey rich with dreamy melodies, deep downtempo grooves and exotic instrumentation on his ethnically diverse new collection Shanti Orchestra," while Michael Diamond of Music & Media Focus commented "The music of India has a rich tradition that is expanded on by Ricky Kej," adding that he "infuses it with a fresh perspective, including contemporary elements of ambient music and downtempo grooves to create a transcendental sound that is exotic, yet accessible." New Age music reviewer Bill Binkelman expands with "Composer Ricky Kej has gathered a global consortium of instrumentalists and vocalists and turned them loose on the world on Shanti Orchestra, a CD bubbling with a heady blend of pan-Asian flavors sprinkled among downtempo rhythms, world fusion motifs, dramatic sweeping melodies, and ethereal vocals. Forming a comparison to other artists or albums simply breaks down because Shanti Orchestra brims over with originality, inventiveness, and abundant musical virtuosity…."
The striking cover art for the album cover was created by Harris Backer, one of the leading graphic artists in Asia, seemingly creating harmony in chaos to match the overriding musical theme. Beautiful music videos support the album, with elaborate yet relaxing pieces for "Exotic Dreams," "Pieces of Heaven," "Blue" and "Forever" available on Kej's YouTube channel.
Shanti Orchestra is available both physically and digitally, released via Kej's own record label Raveolution Studios, with Lazz Promotions servicing radio. Kej plans to release additional new age and world fusion albums through his U.S. distribution team over the coming years, which includes digital distribution through BFM, and physical distribution through Clay Pasternack Inc. and New Leaf Distribution.
Links:
Website: rickykej.com
Studio: raveolutionstudios.com
Facebook: facebook.com/rickykejmusic
Youtube: youtu.be/gYWlrDJHtv4
Itunes: https://itunes.apple.com/in/album/shanti-orchestra/id663494103
Amazon: http://www.amazon.com/gp/product/B00DH70YZE/ref=dm_sp_alb
August 8th, 2013
NEW GLOBAL MUSICAL AMBASSADOR
It is with great pleasure and honor to announce that internationally acclaimed composer, Ricky Kej, has joined as an official Musical Ambassador  for Project Peace on Earth.
Ricky Kej Internationally acclaimed Composer of Kamasutra Lounge 1&2 (USA), Fiery Drums (Virgin EMI), Mesmerizing Flute (Virgin EMI) and Featured in over 100 compilations across the globe.  He has scored and composed for 5 Indian feature movies and over 3000 advertising jingles for Nike, Levi's, IBM, Fosters, Toyota, Air India, Arrow, etc.
Ricky won a 'One Show' award for Advertising Excellence and a finalist for the Cannes Advertising Award for his Nike Jingle. Hailed as a 'World Famous Star in Fusion Music' by Virgin-EMI and as a 'National Youth Icon' in India by the Rotary Club. Composed the score for 2011 Cricket World Cup Opening Ceremony. This was the highest rated sporting opening ceremony event in world.  Ricky  also owns and controls a music library for sync- www.bestsyncmusic.com. Over 200 musical clips from this library have been placed with commercials and brands.
April 10, 2013
It is with great pleasure and honor to announce that Gabriele Gresta, founder of MyCast  has joined as an official Steering Committee Member  for Project Peace on Earth.
 Gabriele Gresta is considered worldwide as one of the biggest expert in digital medias and technologies, specialising in viral projects, participative television and new TV formats designed for various platforms.  Gabriele Gresta started at a very young age in the software field. By age 15, he was Software Development Director in Alpha Center Int. creating a super-learning system that allowed the company to open offices in several countries becoming a multinational corporation. In 1995 Gabriele Gresta founded Bibop a cross media and event company that within the first two years it reached 8 Bln (Italian Lira) turnover with 56 active clients among the top 50 brands.  In 2003, Gabriele Gresta founded DigitalMagics Group, a digital media company incubator, he's in charge of M&A and International Biz Dev. DM collected around 16 mln euros from the partners and from private investors. On March 7th 2012 he has resigned from Brainspark and relocated to the US to focus his energies on building Digital Magics and MyCast in the extensive US Market.
Introducing MyCast! from DigitalMagicsUS on Vimeo.
March 16th, 2013 PPOE Musical Ambassador, David Arkenstone performs his Symphonic Adventure at:
Alex Theatre, Glendale, CA
8 pm
Tickets:
http://www.alextheatre.org/patrons/purchasetickets.php

February 27, 2013
Don Miguel Ruiz, author of The Four Agreements and one of our PPOE Steering Committee members, will be featured on this coming Sunday's (March 3rd) Oprah Super Soul Sunday show at 11am PT/ET time.  Please watch.
February 10th, 2013
CONGRATULATIONS OMAR!!!!
PPOE Musical Ambassador Omar Akram wins the 2012 Grammy award.
 Omar Akram  –  2012 Grammy winner best New Age song "Echoes of Love".
December 24 – 31st, 2012
2nd ANNUAL PROJECT PEACE ON EARTH GLOBAL CONCERT FROM BETHLEHEM
CHRISTMAS EVE (12.24.12)
2012 Bethlehem "Free All" Project Peace On Earth concert from Steve Robertson on Vimeo.
On December 24th Christmas Eve 2012, as part of Project Peace On Earth's second annual global musical prayer for peace concert from Bethlehem, world famed musicians beamed in their musical prayers for peace to Bethlehem and then sent them out to the world.
The PPOE streaming concert link of 12.24.12 transmission to and from Bethlehem to the world features performances by:
Jon Anderson (lead singer of Yes), Serj Tankian (lead singer of System of a Down), Gary Nicholson (Grammy winning Texas Hall of Fame singer/song writer), Joanne Shenandoah (Grammy winning Native American singer/song writer), Sussan Deyhim (world famed Sufi Singer), Fox Lima (MMX Enigma Social Song singer/song writer), Richard Horowitz (famed film score composer), Itai Desraeli and Hagai (Maetar), Ernest Chapman (lead singer of Team Illuminati based in Nashville), Seay (award winning New Age/ World Music singer/song writer from Nashville), Peter Joseph – edutainment video shorts ("Emergence" and "Spirituality" content contributions from Steve Robertson)
Project Peace On Earth Bethlehem peace initiatives: On Christmas Eve 12.24.12 in Manger Square Bethlehem, Boy and Girl scout troops lead additional Palestinian youth to participate in forming a human "Peace Symbol and spelling the words "Love All" to send an aerial image message of Christmas love, peace and joy to the world.
On December 31st, 2012, as part of a Project Peace On Earth "Free All" peace initiative, hundreds of boy and girl scouts join in solidarity at the Dividing Wall in front of the Israeli guard tower, just next to the famed Entry Gate of the Patriarch in Bethlehem (the historical original road into Bethlehem). Here, the scouts form the message "Free All" and express a continuous image of permanent handprints that send a prayerful plea to all world leaders and the brotherhood of all scouts to bring the Israeli Dividing Wall down and to establish a lasting freedom, justice and peace for all. President Abbas delivers a speech to the boy and girl scouts on the importance and historic significance of their participation in the PPOE "Free All" aerial art initiative. ("Free All" making of video montage and President Abbas speech soon to be released)
November 30, 2o12
It is with great pleasure and honor to announce that Dr. Jack Kornfield has joined as an official Steering Committee Member  for Project Peace on Earth.
  Dr. Jack Kornfield trained as a Buddhist monk in the monasteries of Thailand, India and Burma. He has taught meditation internationally since 1974 and is one of the key teachers to introduce Buddhist mindfulness practice to the West.  Then he joined the Peace Corps and was assigned to the Public Health Service in northeast Thailand, which is home to several of the world's oldest Buddhist forest monasteries. He met and studied under the Buddhist master Ven. Ajahn Chah, as well as the Ven. Mahasi Sayadaw of Burma. After returning to the United States, Jack co-founded the Insight Meditation Society in Barre, Massachusetts, with fellow meditation teachers Sharon Salzberg and Joseph Goldstein. He is also a founding teacher of the Spirit Rock Center in Woodacre, California, where he currently lives and teaches. Over the years, Jack has taught in centers and universities worldwide, led International Buddhist Teacher meetings with the Dalai Lama and worked with many of the great teachers of our time. He holds a Ph.D. in clinical psychology and is a husband, father and an activist.
His books have been translated into 20 languages and sold more than a million copies. They include, A Wise Heart: A Guide to the Universal Teachings of Buddhist Psychology, A Path with Heart; After the Ecstasy, the Laundry; Teachings of the Buddha; Seeking the Heart of Wisdom; Living Dharma; A Still Forest Pool; Stories of the Spirit, Stories of the Heart; Buddha's Little Instruction Book; The Art of Forgiveness, Lovingkindness and Peace and his most recent book, Bringing Home the Dharma: Awakening Right Where You Are.
November 8th, 2012:
It is with great pleasure and honor to announce that Itai Disraeli and Hagai Or of the group MAETAR have joined as official Musical Ambassadors for Project Peace on Earth.
  Itai Disraeli (bass) and Hagai Or (horns) of the group MAETAR.  Their music itself is a declaration of peace, calling on Hebrew and Arabic melodies, filtering it through a rigorous jazz perspective, and the exuberance of funk, soul, and rock.    Born in war torn Israel on a kibbutz, the Maetar brothers started making music at the age of six and four. The whole family used to gather around their grandfather's table every Saturday and jam. Hagai became an award-winning soloist and performed with Israeli orchestras and Itai became a celebrated and sought after bassist, winning "Bass Player of the year." Itai and Hagai had a vision: to create original soulful and substantive music that reaches across cultural boundaries as an instrument of peace. Their love of soul, jazz, classical lyricism, and sacred tribal music from around the world led them to create MAETAR, a setting in which they could create this fusion of sound and cross cultural collaboration.  Their concerts for human rights and peace have brought Arab and Israeli, Muslim, Christian, and Buddhist musicians and communities together alike.   
Zeitgeist screens "Admissions," challenges students
Left to right: Actor James Cromwell, Project Peace on Earth founder Steve Robertson, "Admissions" director Harry Kakatsasis. Photo courtesy of Rachael Cohen/ECReality
El Camino's Zeitgeist Club presented an advance screening of the short film Admissions, with moderated discussion before and afterward, last Thursday during fifth and sixth period. Zeitgeist advocates environmental sustainability, international disarmament and collective use of resources. El Camino's chapter is the first high school faction.
Prior to showing Admissions, Steve Robertson, the founder and CEO of Project Peace on Earth and Support Vets Now, spoke to students and showed a clip of Project Peace on Earth, a documentary on the annual concert series for peace.
Subsequently, founder and CEO of Project Peace on Earth and Support Vets Now, writer and producer John Viscount led a discussion of the questions printed on the event program, which asked "Is it better for everybody to be forgiven in life, or do some people deserve to be judged and condemned?", "What is the difference between shared interests and separate interests?" and "What will it take for there to be peace in the Middle East and other parts of the world?"
After some discussion, Admissions was shown. The film portrayed an Arabic man and Israeli couple's simultaneous entry into the admissions room of the afterlife, and the tensions and connections that followed. Though many students got up to leave while the film was still playing as the fifth period bell rang, others found it moving enough to stay.
"The whole idea that Hell is just a prop was a really cool idea, because I feel like a lot of people use Hell as a way to get people to behave 'correctly,'" said junior Marion Herzog. "We as a race have a problem with judging each other, and we really just need to stop sectionalizing ourselves. I think it was really cool they were able to show it at our school."
After the film, Viscount; director Harry Kakatsakis; and actors James Cromwell, Oren Dayan and Anna Khaja conversed with students about the ideas behind the film and the students' feelings on it. A longtime activist, Cromwell said to students, "There is no problem that you can conceive of that does not have a solution. There is no such thing as separate interests. We are all connected, we are all one people."
Students were asked if and in which way the film affected how they thought, as well as for their insight on parts of the story.
"Forgiveness and peace and the process of peace is a process," said Kakatsakis. "If you have a solution in mind, keep at it!"

September 26th, 2012
The UN selects the Project Peace on Earth Picasso Peace Dove / Love All image taken from aerial art initiative in Jericho last November 25, 2011 as ONE OF THE 49 MOST ICONIC IMAGES EVER TAKEN since the inception of the UN.
Over the next six days, some 150,000 visitors from around the world are expected to view the exhibit, which showcases 

49 iconic images taken by UN photographers

 since the founding of the Organization.

In his 

message for the exhibit

, the Secretary-General said, "Diverse scenes and pursuits are on display: from peacekeeping to disaster relief, from children's health to the empowerment of women. But a thread is clearly visible: the mission of the United Nations to serve the world's people. …The images here capture moments of great power, beauty and urgency."

Entitled "The United Nations: Seven decades of photography," the exhibit was organised by a non-governmental organization associated with the United Nations, the International Photographic Council, with support from the Department of Public Information.

These are wonderful photos that illustrate the work the United Nations does. 

Other offices will be using the photos as well. The UN Information Centres (UNIC) in Jakarta and Pretoria will use the photos for the upcoming UN Day and UNIC Rio de Janeiro is holding a "virtual exhibition," on Facebook.  The UN Regional Information Centre for Western Europe, which helped with the German-language translation of the exhibit text, will house the material after Photokina closes for use in future displays.
August 26, 2012:
It is with great pleasure that we announce that John Viscount, writer and producer of the award-winning short film, "Admissions", featuring Academy Award nominee, James Cromwell, has just joined our Project Peace On Earth (PPOE) Advisory Board.
 John Viscount –  He is the writer and producer of the award-winning short film, "Admissions", starring Academy Award nominee, James Cromwell. The film tells a transformational tale about what it takes to find lasting peace, even in war-torn places like the Middle East. Featuring an Israeli couple and a Palestinian man, this modern parable is set in the Admissions Room for the afterlife. Its purpose is to start a conversation that heals. John is also a music composer and co-wrote the theme song for the film, "Free."
Official Merchandise of Project Peace on Earth  
Steve Robertson, a feature presenter at the recent August 5th, 2012 Zeitgeist Media Festival in Los Angeles and webcast worldwide.
Ash Ruiz, Gary & Barbara Nicholson, Steve – Steve – Beth Nielsen Chapman and Gary Nicholson
Rutger and Steve – Steve, Marianne Williamson, Tim Kring – Steve, Shan, Mark Magidson, Beth Nielsen Chapman
Rutger Hauer, Sharleen, Steve – Steve and Mark Magidson (Prod. BARAKA and SAMSARA) – Steve, Barbara and Gary Nicholson
July 19, 2012: It is with great pleasure that we announce that Nashville rising star, Ernest Chapman, has joined PPOE as one of its Global Musical Ambassadors.
 Ernest Chapman comes to World Music Nashville with many years of experience in musical performance, composition and instruction, having shared the stage and/or performed in the studio with many notable artists and musicians, including Michael McDonald, James Taylor, Vince Gill, Bob Geldof, Olivia Newton-John, Rodney Crowell, David Foster, Bonnie Raitt, Beth Nielsen Chapman (mother and mentor), Craig King (Organ/Keys for Ray Charles), Leland Sklar (Bass – Phil Collins, Leonard Cohen, etc…), Roscoe Beck (Bass – Eric Johnson) Rusty Anderson (Guitarist – Paul McCartney), Maart Allcock (Keys – Jethro Tull; Lead Guitar – Fairport Convention), Kevin Bacon, Richard Marx, Matt Rollings (Keyboardist for Mark Knopfller), Jim Brickman, Mike Reid, Gregg Collins (Engineer- No Doubt, KISS), Charlie Morgan (Drums – Elton John, Bjork), the Nashville Chamber Orchestra, the Idaho Falls Symphony, the Mobile Symphony Orchestra, John Michael Talbot, DC Talk, Brenda Lee, Gillian Welch, Emmylou Harris, and JD Souther (Legendary songwriter for The Eagles).
July 1, 2012: It is with great pleasure that we announce that Ms. Farah Siraj has joined PPOE as one of its Global Musical Ambassadors.   
Farah Siraj
is currently
 Jordan's "Musical Ambassadress".  
She has performed at
 some of the world's most prestigious platforms, including the 
Nobel Prize Hall of Oslo, Norway,the the World Economic Forum, the Antena de Oro Awards of Spain 
and the
 Good Morning Live Show 
in the USA.  
She has represented Jordan on UN International Peace Day in the USA
 and the Inauguration of Mediterranean week at 
Barcelona's City Hall
. 
Her music has been played before the United Nations Security Council before passing a legislation regarding the genocidein Darfur.
 Farah's music has played on radio stations in the Middle East, Europe and over 114 radio stations in the United States.
BIOGRAPHY
Farah Siraj is a world music artist driven by her passion to explore and create. Farah grew up in the capital city of Jordan, Amman, surrounded with Middle Eastern music. Farah, considered a prodigy of the Middle East since an early age, released her first album at age seventeen. This album, funded by His Majesty King Abdullah II of Jordan, was recorded between Turkey and the United Kingdom featuring the Turkish Symphony Orchestra. King Abdullah and Queen Rania of Jordan are among the audiences that attend Farah's performances.
The Jordanian virtuoso earned her music degrees from Berklee College of Music in Boston and Trinity College of Music of London, where she received numerous international awards and global recognition. Farah possesses a unique musical style, blending her influences from all around the world, making her a cultural ambassadress of her country.
Farah's new album, NOMAD, includes original compositions mixing her musical influences, Middle Eastern folk, Flamenco fusion, Jazz, and Bossa, with lyrics in Spanish, English and Arabic. Recordings for this coming album took place in Spain, Jordan, USA, and the UK, involving over 40 talented musicians from all around the world.
June 27, 2012: It is with great pleasure that we announce that legendary composer Ray Lynch has joined PPOE as one of its Global Musical Ambassadors.
 Ray Lynch is a multi-platinum selling composer and producer who is also considered one of the early iconic pioneers of inspirational instrumental music.  Ray is a classically trained composer and producer who began as a classical guitarist and lutenist.  He has won 3 Billboard Awards, written five albums (which included the renown "The Sky of Mind", "No Blue Thing", Nothing Above My Shoulders but the Evening" and "Deep Breakfast"), and sold over 2 million albums without the benefit of live performances or videos. His second album Deep Breakfast  became a classic and the first independently released album to be certified Gold and then later Platinum by the Recording Industry Association of America (R.I.A.A.).
For more than a decade Ray has been fully engrossed in the passion of writing a book which explored the relationship of mathematics, music and Pythagorean tuning theory.   The book also explores ancient cosmology and mythology, the nature of number, metrology, geodesy, the mathematical constants of physics, human spirituality, the precession of the equinoxes, human prehistory, and the meaning of what we call "history."
Kenji Williams, BELLA GAIA, Joins Project Peace on Earth
Posted on 
"New Collaboration Brings Hope of World Peace through Music-
Kenji Williams, BELLA GAIA, Joins Project Peace on Earth"
(released by Thunderbird Public Relations)
Internationally acclaimed musician and film maker, Kenji Williams, BELLA GAIA Founder, Composer, and Director, has been announced as the newest member of the Musical Ambassador team for the global peace organization, Project Peace on Earth.
Led by Steve Robertson, its Founder, Executive Producer & CEO, Project Peace on Earth LLC (PPOE) is a Los Angeles-based organization committed to bringing greater individual and collective world peace through sacred music concerts and other peace efforts on a global scale.
"I am extremely honored to be a part of such an incredible group of artists, producers, scholars, scientists, healers, and writers. Some of these artists have already changed my life," stated Kenji Williams in response to his being included as a Musical Ambassador for PPOE.
PPOE recently held a concert at the Bethlehem Convention Palace in Bethlehem, Palestine that brought thousands of people together live, and tens of millions from every nation and faith through the full concert broadcast which benefitted UNRWA and Palestinian Refugee Youth.
"Sacred Music is the most profound and expedient way to touch the heart and create a direct communion with the Divine.  The mission of Project Peace on Earth concert series is to deliver the most spiritually authentic musical experiences so that people are inspired to discover their inner most life calling and courageously act on it towards the overall goal of individual and world peace," explains Steve Robertson.
Kenji Williams is an award winning filmmaker, music producer, and classically-trained violinist. Blending music, visual arts, science and philosophy, BELLA GAIA, which means "Beautiful Earth," simulates space flight and displays the captivating beauty of planet Earth as seen through the eyes of astronauts.
Williams, in collaboration with NASA, brings this live performance against a large-screen backdrop of orbiting visualizations of the Earth as seen from space. Using multiple art forms, Kenji Williams and the other artists in BELLA GAIA, strive to transform the beliefs held by audience members about the planet.
"Our entire reality – seen and unseen, here on Earth, and throughout the Universe, is composed of vibration and energy.  Art, and especially music, uses vibration to open a portal to these powerful forces. I believe we have the potential to be closest to spirit when we are at ease (at peace), and aligned with this vibration and energy," comments Mr. Williams.
Kenji Williams has collaborated with Trance group, Medicine Drum, world famous DJ, John Digweed, visionary painter Alex Grey, and evolutionary philosopher Ken Wilber. His work has appeared at The Gates Planetarium Dome Theater (Denver Museum of Nature and Science), large music festivals around the world, mainstream television, and used for exotic fashion shows at Japanese Temples.  Additionally, Pioneer, Panasonic, and Sony corporations have sponsored Williams with technology to support his artistic vision. Combining unique skills in film and music, Williams has earned international film awards from the CSC to Sundance, and exhibited work at the Smithsonian Institute.
Invoking unity and shared concern for the world by displaying the extraordinary beauty and connectedness of the planet through musical live performances are at the heart of both Project Peace on Earth and BELLA GAIA.  The live concerts and worldwide telecast from Bethlehem are the first of many planned concert events, TV, and film content, centered on the subjects of personal transformation and world peace.   PPOE aims to bring superstar musicians, performing inspiring and sacred music, to some of the worlds' most sacred sites.
"With Steve Robertson's vision, I feel that our collaboration of such talent devoted to peace, will create a true and meaningful impact with repercussions well beyond the events. I look forward to collaborating and contributing my compositions, film work, and live performance to the Project Peace on Earth," explained Williams.
For Information on Project Peace on Earth, the Musical Ambassadors and upcoming events, please visit http://www.projectpeaceonearth.org/
For information about Kenji Williams and BELLA GAIA, visit  http://www.bellagaia.com
_____________________
Shared from Kenji Williams–
"The vision of BELLA GAIA is to bring the power of art, technology, space science, and real scientific data visualizations together, into a context that is both entertaining and educational, fused with a common goal of raising the awareness and appreciation of our home planet. BELLA GAIA can actually visually display how humans are affecting the planet, and how each element affects the other, allowing the audience to easily understand the delicate interconnected balance of our planet.
BELLA GAIA™ is a powerful entertainment and educational outreach vehicle for performing arts centers, festivals, planetariums, universities, government agencies and other institutions that wish to convey a broader world view that the destiny of humans and our planet Earth are inextricably linked. Often received with standing ovations, BELLA GAIA has been featured at top festivals such as the Smithsonian Folklife/NASA festival, 13 NASA events, COP15 Copenhagen Climate Change Summit, The Economist Magazine's "World in 2011" conference, and to sold-out shows at digital planetariums. BELLA GAIA has delighted audiences from Europe to the USA to Japan, and has proven to engage a wide demographic from 3 year-olds, to students, to heads of government agencies.
http://www.bellagaia.com
Voices for Peace


Tags: Commissioner-General | Peace Starts Here | West Bank

A Concert for Humanity

22 December 2011

Jerusalem

A star-studded cast of international celebrity singers and Palestinian musicians will stage a "concert for humanity" in Bethlehem on Christmas Day. The performers include the Native American singer and Grammy Award winner Joanne Shenandoah, Grammy-winning Gary Nicholson, Fox Lima of Enigma's Social Song, and Hani Naser. Said Murad from Sabreen is musical director for the event.

Proceeds will go to the United Nations Relief and Works Agency (UNRWA), which assists millions of Palestine refugees in the Middle East through development and advocacy.

UNRWA Commissioner-General Filippo Grandi paid tribute to the musicians and organisers of the event: "This is a celebration of the common humanity that unites us all, and it is a fitting reminder to a global audience about the millions of Palestine refugees in this region, as well as UNRWA, which serves them. They are truly among the dispossessed of the Earth and on Christmas Day it is proper that they should be in our thoughts and prayers."

Steve Robertson, founder of Project Peace on Earth, outlined the aims of the event: "The concert is both inspirational and aspirational. I hope it will inspire a greater understanding of what peace means in our lives as individuals and as societies. And I hope it will in some special way unite us in our aspirations towards peace."

The concert, which will run from 19:00 to 21:00 Bethlehem time on 25 December 2011 at the Bethlehem Convention Centre, will be streamed live on the web at www.livestream.com/projectpeaceonearth and It will also be carried live on MTC and PBC.

The event is being organised and produced by Project Peace on Earth and its local partners: Bethlehem Convention Palace, visitpalestine.ps, and Sync Systems. The concert is under auspices of the Palestinian Ministry of Tourism and Antiquities. The producers and organisers would like to thank the sponsors of the event: CCC, Bethlehem Convention Palace, Netours and Ambassador Hotel, the Swiss Agency for Development and Cooperation, MTC -TV, Cairo Amman Bank, Peugeot, and the Palestinian Authority.

– Ends –

Background information

UNRWA provides assistance, protection and advocacy for nearly 5 million registered Palestine refugees in Jordan, Lebanon, Syria and the occupied Palestinian territory, pending a solution to their plight. The Agency's services encompass education, health care, social safety-net, camp infrastructure and improvement, community support, microfinance and emergency response, including in times of armed conflict.

UNRWA is funded almost entirely by contributions from States. The Agency's core budget for 2010-2011 stands at $1.23 billion. In 2009, emergency appeals for the West Bank, Gaza and Lebanon amounted to $827.4 million.

For more information please contact:

Christopher Gunness

UNRWA Spokesperson

Mobile: +972 (0)54 240 2659

Office: +972 (0)2 589 0267

Sami Mshasha

UNRWA Arabic Spokesperson

Mobile: +972 (0)54 216 8295

Office: +972 (0)2 589 0724
FOR IMMEDIATE RELEASE:
"Middle East Transformation – A concert of sacred music in Bethlehem offers world peace"
LOS ANGELES, California- January 24, 2012-  Wishing for global peace and taking action on making it a reality is a vastly different thing but on Christmas Day, 2011, a stunning array of the entertainment industries' finest gathered in Bethlehem, Palestine, to do just that. Project Peace on Earth delivered a featured song during the Christmas Eve Day celebrations held directly in front of the Church of the Nativity and across from a Mosque in Manger Square, Bethlehem. On Christmas Day, the organization put on a globally televised concert at the Bethlehem Convention Palace, located next to the famed Solomon Pools.
Project Peace on Earth LLC  (PPOE) is a Los Angeles-based organization, and the result of 25 years' worth of passion and effort on behalf of Steve Robertson, its Founder, Executive Producer & CEO. Robertson, who is driven to bring greater individual and collective world peace, has gathered some of the top transformational musicians, entertainment industry producers, leaders from higher education and personal development authors, amongst many others, in order to bring these concerts and other peace efforts from conception to reality on a global scale.
"Sacred Music is the most profound and expedient way to touch the heart and create a direct communion with the Divine.  The mission of Project Peace on Earth concert series is to deliver the most spiritually authentic musical experiences so that people are inspired to discover their inner most life calling and courageously act on it towards the overall goal of individual and world peace," explains Robertson.
The live concerts and worldwide telecast from Bethlehem are the first of many planned concert events, TV, and film content, centered on the subjects of personal transformation and world peace.   PPOE aims to bring superstar musicians, performing inspiring and sacred music, to some of the worlds' most sacred sites.
"We will plant a musical seed of love, peace and compassion that will forever uplift the heart and raise the spiritual vibration of the people.  Beginning in the Middle East and then around our world, the mission is to bring the possibility of a state of greater compassion, forgiveness, love and oneness. Ultimately, we will show that peace is profitable," Steve Robertson said.
The musical artists that performed in Bethlehem included Joanne Shenandoah, a Grammy winning Native American singer and her daughter Leah, both of whom performed on Jonathan Elias's new Prayer Cycle album entitled "Path to Zero."  Gary Nicholson, the Grammy winning Texas Hall of Fame song writer, also performed. Hani Naser, the world renowned Jordanian percussionist and oud player and Fox Lima, co-composer and vocalist of Enigma MXX Social Song, rounded out this stunning list of performers.
Peter Joseph, famed for the "Zeitgeist Film Series," produced video segments for the broadcast. Rutger Hauer, famed "Blade Runner" actor, and Shaun Monson, director of the films "Earthlings" and "Unity," also produced a video for the concert telecast.  The artist Seay's music video "All Around the World" was also feature.
The shows' live satellite telecast, directed by Marc Scarpa, was sent to tens of millions of homes worldwide through Melli TV/MTC and other broadcast carriers.  As well, viewers accessed the program via live-streaming, also directed by Scarpa, who has served previously as the Producer / Director for "40th Anniversary of Earth Day," "Tibetan Freedom Festival," and "X-Factor" digital.
Serving as the Director of Social and Digital Media and working with Scarpa, was Kent Speakman, of the ENGAGEIA Agency.  Speakman worked on the project that allowed millions of viewers' access to connect via social media platforms in conjunction with Scarpa's live television satellite broadcast coverage of the event. Viewers were able to watch the event live on Facebook by integration of the Live Stream channel embedded into the page. The full program is available for viewing at any time by visiting www.projectpeaceonearth.org
This first concert in Bethlehem brought thousands of people together live, and tens of millions from every nation and faith through the full concert broadcast which benefitted UNRWA and Palestinian Refugee Youth. The event was made possible through the generous sponsorship support of VisitPalestine, the Convention Palace Bethlehem, Consolidated Construction Corporation, NeTours and the Ambassador Hotel, the Swiss Government, UNDP and the Palestinian Ministry of Tourism and Antiquities.
Brian Thomas, noted concert production manager, Sami Khoury of ABS Marketing,  Fritz Froehlich of the Swiss Govt. and UNRWA, George Bassous of the Bethlehem Convention Palace, and Steve Robertson formed the core of the production team and efforts.  Famed composers and musicians David Arkenstone and Jonathan Elias both served as Musical Advisors for the concert.
PPOE brought a star-studded cast of talented people to this worldwide concert and also took important steps towards the promotion of inner and world peace in a region where peace is deeply hoped for and not yet realized.
Several other PPOE events are planned for this coming year in the Middle East and continuing forward globally.
( www.projectpeaceon earth.org )
# # #
MEDIA CONTACT INFORMATION-
For more information, to request photos or to schedule interviews, please contact:
Shelley Bluejay Pierce
Thunderbird Public Relations
thunderbirdpr@yahoo.com
They Call Her 'Songbird'-Behind the Scenes with Joanne Shenandoah
19 January 2012 Shelley Bluejay Pierce, Thunderbird Public Relations for Native American Times
A grandmother waved her over after a concert to tell her that the Inuit believe songs are carried over the ice from the Ancestors' land by the birds.
"She called me a song bird and said that birds bring their songs to me. She could envision where my songs came from. They come from beautiful places," explained Joanne Shenandoah.
In this interview with Native American Times, Joanne Shenandoah speaks to some of her personal and cultural history that's guided her to becoming one of the most beloved and awarded Native recording artists in history. Here, she shares from her heart about what has motivated, inspired, and kept her focused on giving to the world community for many decades.
NAT- Your music draws on Native tradition and you sing in the Oneida language. Your words may be unfamiliar to some listeners, but the music has global approval.  What do you feel the reason for this is?
Joanne- The vibration of music touches the soul and hearts of people. Music has been called the 'universal language' and speaks to us all. While I was in Istanbul, the call to prayer was a constant reminder throughout the land, and affected me although I did not understand the words. Music in different languages is vibrations of sound that bring us to a place of celebration or enlightenment.
A great artist, A. Paul Ortega, a Mescalero Apache Medicine man, once told me that I should never refuse to sing, as my voice will bring people together in a place which may never be otherwise together because of my gift. This is what I aim to do through my music. I have received so many letters and emails from people around the globe whose lives are positively affected by my music. What a blessing!
NAT- You recently participated in a concert held in Bethlehem on Christmas, 2011 with Steve Robertson's, "Project Peace on Earth" (http://www.projectpeaceonearth.org/) that served as a global, musical prayer for peace. This must have been a life-changing event for you as you performed live on Christmas Eve at Manger Square, directly in front of the Church of the Nativity and across from a Mosque.  On Christmas Day, you performed in the full "Project Peace on Earth" concert at the Bethlehem Convention Palace which is next to the famed Solomon Pools.  Bringing thousands of people together live, and tens of millions from every nation and faith through the full concert broadcast, is a powerful experience. How did this concert and visit to the region impact you?
Joanne- Several thousand people were at Manger Square on Christmas Eve day and it was a moving experience to sing and share the message of peace. I was blessed to gift the Iroquois Hiawatha Belt to the minister of Tourism and Women's Affairs of Palestine, Dr. Khouloud Diabes. I told her this flag represented Hiawatha, one of our prophets of peace. At a special dinner held for our delegation, I was given opportunity to explain to her in detail about how our Peacemaker brought the message of peace to the Iroquois through forgiveness.
It was with sacred respect that I visited the birthplace of Jesus and the Garden of Gethsemane and was so moved to sing an Iroquois Women's song with my daughter Leah in the church of Mary Magdalena in Jerusalem. (http://www.youtube.com/watch?v=26usZUTvQXk)
Going to the Holy Land was an adventure that I never knew was in my future, but it affected me greatly. Since I've had a chance to sing and dance with the Aborigines in Australia, with the Buddhists and traditional people of Korea, chant and dance with African women in Cape Town, I have come to realize that each culture has their form of worship along with their prophets of peace.
NAT- What are your plans for 2012 and what priorities do you feel we need to place before us as a global and united human race?
Joanne- I believe that a lot of people live in fear of the future. 2012 represents a transition to many people and our prophecies tell us that we will continue to survive as human beings. The key to survival will be the ability to live within sustainable societies which secure balance between basic human resource needs and the rights of other species. The Iroquois have a constitutional obligation to do nothing that causes harm which qualifies the rights of the unborn to clean water, fertile land and clear skies. To achieve this, the Iroquois incorporate the rights of others- from the earth to water, insects, animals, plants and trees-all have legal standing which must be respected.
NAT- You have recently gone out on your own and taken creative control of your music. What benefits has that brought you as an artist?
Joanne- "Lifegivers" is my first independent recording from start to finish. Creative management of the actual recording allows me to have direct control in respect to the buyers and then reaching the fans that have purchased my recordings in the past. I am honored to have been involved with helping to bring about the first Native American Music Awards through Ellen Bello. I am much honored to hold 13 Nammys which is the most any Native artist has received to date. It is wonderful seeing so many artists involved now and many of them are independent.
NAT- I know that you care deeply about the women- their growth and positive movement forward and your newest CD, "Lifegivers" is a testament to your honoring the entire lifecycle that women evolve through. Tell us what motivated this recording?
Joanne- "Lifegivers" pays tribute to the life cycles of women and each song is meant to celebrate the cycle of life. It has been my great honor to be embraced by many women of the world! The Iroquois hold that every human being is a remarkable gift of life, experience and creativity from the spiritual world. Each being has specific abilities and talents which must be nurtured by the extended family. Communal stability and peace is realized when children are free to explore the world and apply their talents without coercion or qualification. I have written songs to my daughter Leah and to other women directly in respect to our love, peace, and the commitments we hold to our children by helping them realize their dreams.
Ever since my daughter Leah was born, I have been began singing to her. Now, she is a magnificent singer and has been blessed with a golden voice. Her first recording will be out this year. I am so very proud to be her mother. She is a Cum Laude Graduate of Syracuse University and has her Master's Degree from Rochester Institute of Technology. (www.leahshenandoah.com)
NAT- What is your wish for future generations?
Joanne- My biggest wish is that all people will have clean air, water, and fertile land to grow their food, sing their songs and dance their dances. I hope that people awaken, stand up and be counted, and they will love their children so much that they will care for the earth and use their Creator-given gifts to do so. I will continue my efforts to bring music that lifts the spirit and heals the soul.
Purchase Joanne's new CD "Lifegivers" at: http://www.cdbaby.com/cd/joanneshenandoah
Follow her home website at: http://www.joanneshenandoah.com/WELCOME.html
PABLO PICASSO'S PEACE DOVE by PALESTINIAN CHILDREN at JERICHO (UNRWA & JOHN QUIGLEY) (MaximsNewsART)
          MaximsNewsNetwork: 27 November 2011: UNRWA: West Bank –Hundreds of young people from United Nations schools in the Jericho area on Friday created a massive aerial image in conjunction with the world-renowned artist, John Quigley, sending out a peace message to the world; they gathered at the foot of the Mount of Temptation just outside Jericho in the shape of Pablo Picasso's Peace Dove.  (Photo Credit: Photo by John Quigley / Spectral Q )
The image is being created as part of "Project Peace on Earth," founded by Steve Robertson, which will stage a globally broadcast Musical Prayer for Peace concert from Bethlehem's Manger Square on Christmas Day. "Our soul is defined by the music of our heart", said Robertson. When we listen towards that Divinity and choose to express that joyful wisdom, the result is always peace.
Directed by aerial artist Quigley, who has created mass images from groups of people for over a quarter of a century, they gathered at the foot of the Mount of Temptation just outside Jericho in the shape of Pablo Picasso's Peace Dove. 
John Quigley worked with local assistants to create the grid for the image that the children would form.
Persons from all over Jericho volunteered to help the artist prepare the image on the day before and in the early morning of the day of the event, from refugee camp officials to Bedouin families living nearby the canyon where the Peace Dove was created.  
John Quigley went around the UN schools in Jericho the day before the event to ask the children to take part in the image.  
Hundreds of children came to the canyon because they wanted to help Quigley on their day off, not because their teachers had told them to go.  
The event was organized by UNRWA, the United Nations Relief and Works Agency for Palestine Refugees and the "Peace on Earth" project. 
United Nations Relief and Works Agency for Palestine Refugees (UNRWA) and the "Peace on Earth" project. United Nations Relief and Works Agency for Palestine Refugees in the Near East: UNRWA: Mount of Temptation, Jericho, Occupied Palestinian Territories 
MaximsNewsART: See: http://www.MaximsNewsArt.com MaximsNewsNetwork See:http://www.MaximsNews.com  
News Network for the United Nations and the International Community
Hundreds of students from United Nations schools in the Jericho area have created a massive aerial image of the Dove of Peace in conjunction with the world-renowned artist, John Quigley. Directed by Quigley, who has created mass aerial images from large groups of people for over a quarter of a century, they gathered in the dove formation at the foot of the Mount of Temptation in Jericho, reputed to be the oldest and lowest city on earth.
"This is a mirror image of Picasso's famous 'Peace Dove'. Palestinian youth are sending the message to "Love One Another" and "Love All" so we can find a path to peace", said Quigley. "These kids are planting seeds of hope into the heart of the middle east conflict. They deserve the kind of positive future we wish for all children."
The students are from schools run by the United Nations Relief and Works Agency, UNRWA, which educates half a million children across the Middle East.
"The world needs to sit up and listen to the youth of this region", said UNRWA Commissioner General, Filippo Grandi, "their message of peace is essential. It is the voice of the next generation."
UNRWA is grateful to the sponsors and donors of this event:
Visitpalestine.ps, the Ambassador Hotel, the Jericho Resort Village, the Jericho Cable Car, Kamar Productions
PPOE Mouse Pad
PPOE Tea/Coffee Cup
PPOE T-Shirt (see optional colors)
PPOE Hoodie Sweater
PPOE License Plate
We regularly update PPOE News and announcements here.